Most of us who grew up in Singapore before the late 2000s would remember Trans-Island Buses (TIBS), with their distinctive white, yellow and orange livery. The fleet in our time was mostly Mercedes-Benz O405s and O405Gs, but the company actually started in 1982-1983 with mostly Japanese buses before switching over to European brands such as DAF, Mercedes-Benz and Dennis in the 1990s.
I do also remember, however, that some years ago a photo was shared of a left-hand-drive MAN bendy bus with a VöV SL-I body, seemingly in Trans-Island livery. Clad in white, orange and yellow, it even featured the distinctive raised stripes pattern at the rear section, where the yellow stripe rises and is joined by a new khaki-ish stripe while the orange stripe continues.
I did wonder if it was a Photoshop. But recently on a whim, I decided to look for the photo again, seeing as it's 2022 and Google is powerful. What I found stunned me.
First of all, it's not a photoshop. This is a real photo of a real bus, and it's even taken quite recently in 2008. The bus in the photo is a MAN SG240H (often spelt as SG 240 H by German websites), and appears to be a prototype (Volksfuehrwagen).
My German doesn't go much beyond "Ich bin ein Berliner", but thankfully Google Translate exists. So I tried to find out who the operator of the bus was, to try and figure out who the livery belonged to. As photos of these buses emerged, however, it became clear that this was a factory livery applied to demonstrator buses.
The bus in the photo is DN-L1176. Searching up its registration gave me more information, such as confirmation that it was a 1980 demonstrator – and even information about where it had previously served, all in the same livery. Some very clear photos were found of the bus during its time as fleet number 105 in the city of Dueren, then registered DN-DJ805.
The bus also had a sibling, DN-DK803 which was numbered 110 in the Dueren fleet. This bus, a 1983 demonstrator, is mechanically different and has different axles, grille placement and a slightly different livery. Note how the angles where the stripes slope up are more gentle than on 105.
Further digging confirmed that the white, yellow and orange combination was a MAN factory livery, with variations as seen on this SG240H here operating in Bischofsheim but with a Salzgitter plate. This one has the stripes go all the way up instead.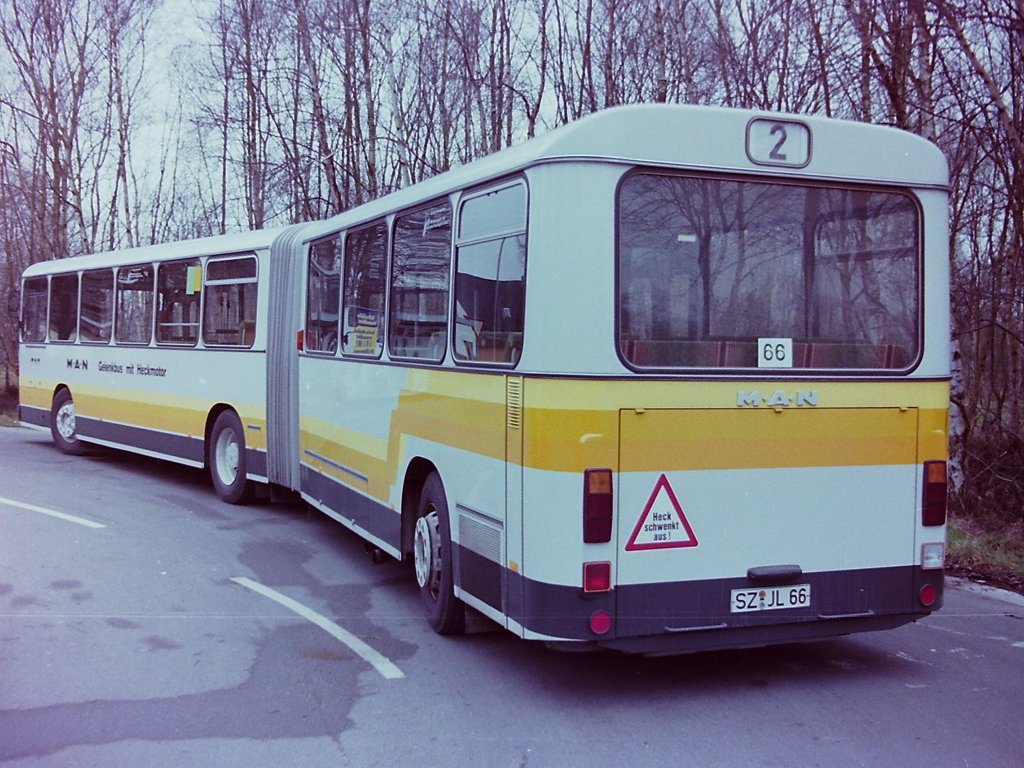 The slogan on the side reads "MAN: Gelenkbus mit Heckmotor" (MAN: Articulated bus with rear engine). This was to highlight the novelty of the bus having its engine in the rear, but driving the middle pair of wheels (puller configuration) through the turntable. Most bendy buses have the engine located nearer to the driven wheels, either the middle or last axle.
The same slogan was seen on a MAN SG280H demonstrator in Basel, Switzerland, with the close-to-TIBS livery.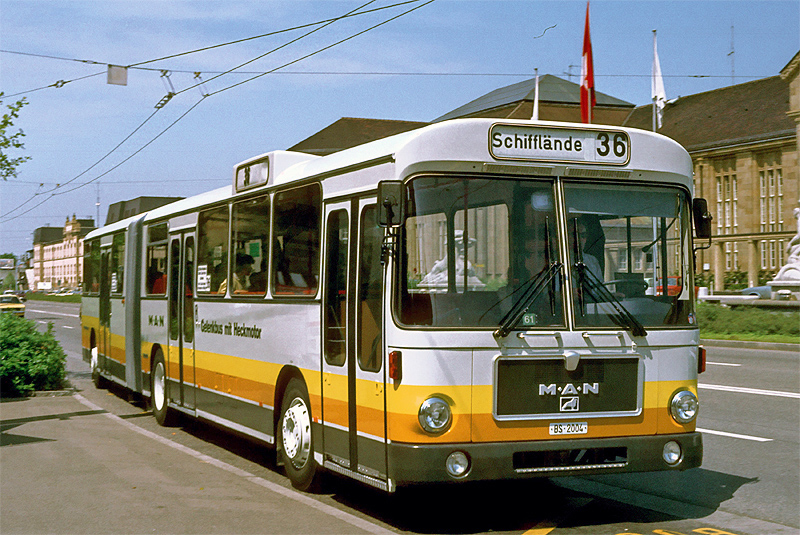 SL200 demonstrators carried the livery with a higher rear as well, like this Salzgitter-registered one in Goettingen (page also features an SG240H) in 1984.
At this point it's pretty clear that the colour scheme is from MAN. In fact, it was used with many variations, such as this MAN SG 80 demonstrator.
And this SD202 prototype double-decker, which makes for an interesting exploration of what a TIBS double-decker would look like.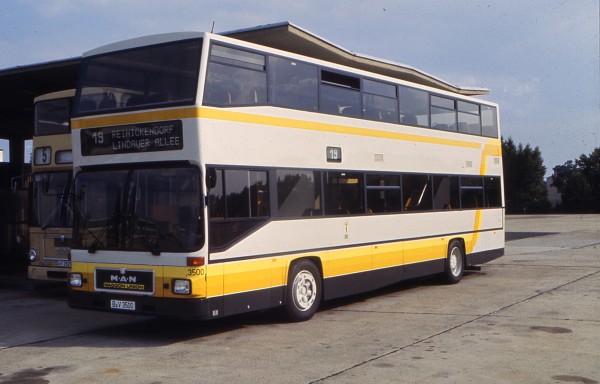 Which brings us back to the question: so why is this livery the same as that on TIBS buses? Simple answer is I don't know. TIBS was founded when Singapore Shuttle Bus, then operating City Shuttle services, responded to the government's call for a second bus operator in January 1982. They began ordering Japanese buses around May, and began operations in April 1983.
This was more or less concurrent with the operation of these MAN demonstrators in Germany. But I still can't figure out exactly how someone at TIBS would have seen these buses, unless they had been to Germany themselves. There are newspaper reports about the demonstrator buses, but they were all in black and white – I don't think colour newspapers were very common back then. And the newspapers were all German ones.
Anyway, the use of this livery continued all the way to 2004, where TIBS was rebranded as SMRT Buses.
In any case, by the late 1990s, some TIBS buses had made their way to Europe, such as the Hispano-bodied DAF SB220s that were sold to England. I wonder if anyone noticed the similarity to MAN factory livery.
In any case, despite using a livery shared with MAN demonstrators, TIBS never bought any buses from MAN. It was only in 2010 that SMRT Buses brought in SMB138Y, a MAN NL323F demonstrator.
While the vehicle itself was not retained, the trial was successful and led to the purchase of more than a thousand MAN buses, and MAN is now part of the backbone of the Singapore bus fleet. The new "pixel" SMRT livery, which is somewhat a throwback to the old TIBS livery, has even appeared on bendy buses and double-deckers, even as they are shuffled around to other operators.
Questions remain, however – exactly who copied who? It would look like TIBS copied the MAN factory livery, but even then, how did they get hold of it? And regardless, did the party being copied ever realise their livery had appeared on buses halfway around the world?
I will close this story with a funny anecdote. Perhaps in 1982, our bus operator copied a manufacturer's factory livery. But thirty years later in 2012, Chongqing bus manufacturer Hengtong unveiled their CKZ6926HN4 "Newman" with a factory livery that was very clearly plagiarised from SBS Transit.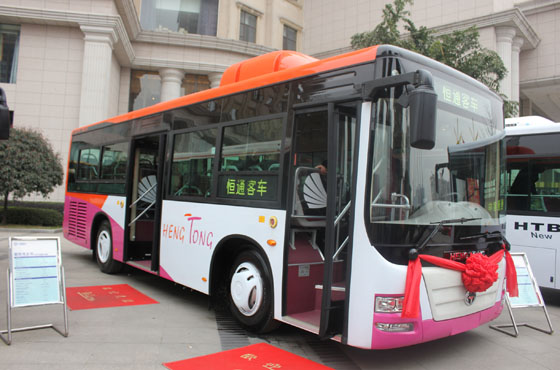 Red, white and purple in that exact combination, red "speed stroke" over the T, dark grille area reminiscent of the Gemilang Scania K230UB, purple bumper… no questions about who copied who here. Thankfully, it seems Hengtong has changed their factory livery for their later offerings.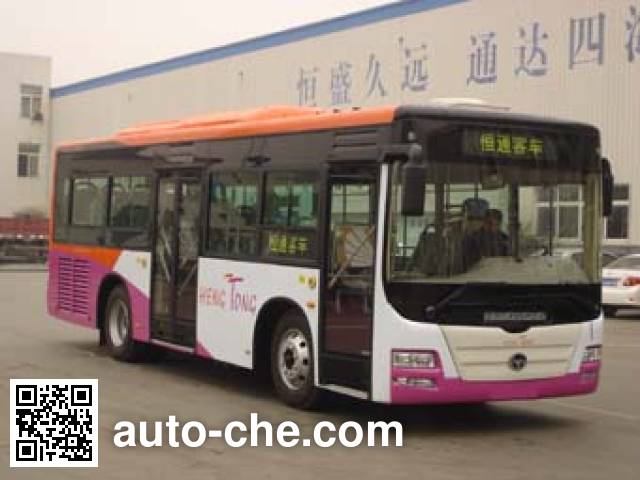 Man, sometimes I just don't know any more.
One final coda: one of the MAN SG240H demonstrators, M-XA4498, is preserved by Omnibus Club München. It has been restored and registered as a historic vehicle (with a H appended to its numberplate) and survives as of 2019. Sadly, it appears that the restorers painted it with the coloured stripes horizontal all the way to the rear, even though historical photos indicate that it did originally have the "TIBS" livery.
So I guess this means there is at least one bus out there in the world that still has TIBS livery – even if it was never operated by TIBS in the first place.
If you have any information on how the Trans-Island Bus livery was designed, please reach out to me. I would really love to find out. Thank you!